Exquisite local Hida cuisines
Try traditional dishes passed down through generations.
Gohei-mochi, Houba zushi, Pizza, and Apple pies made of local ingredients are amazing.
Traditional food is an important aspect of our culture!
Hoba-zushi & Sasa-zushi Making
"Hoba-zushi" and "Sasa-zushi" are traditional local cuisines in Hida region.
Make vinegared rice, put wild vegetables and trouts on it, and wrap them with  "Hoba"(Japanese big magnolia) leaves or "Sasa"(dwarfed bamboo) leaves.
They are excellent portable meals or finger foods, and the old wisdom from a long time ago is all packed in them.
Everyone can't wait tasting the delicious sushi.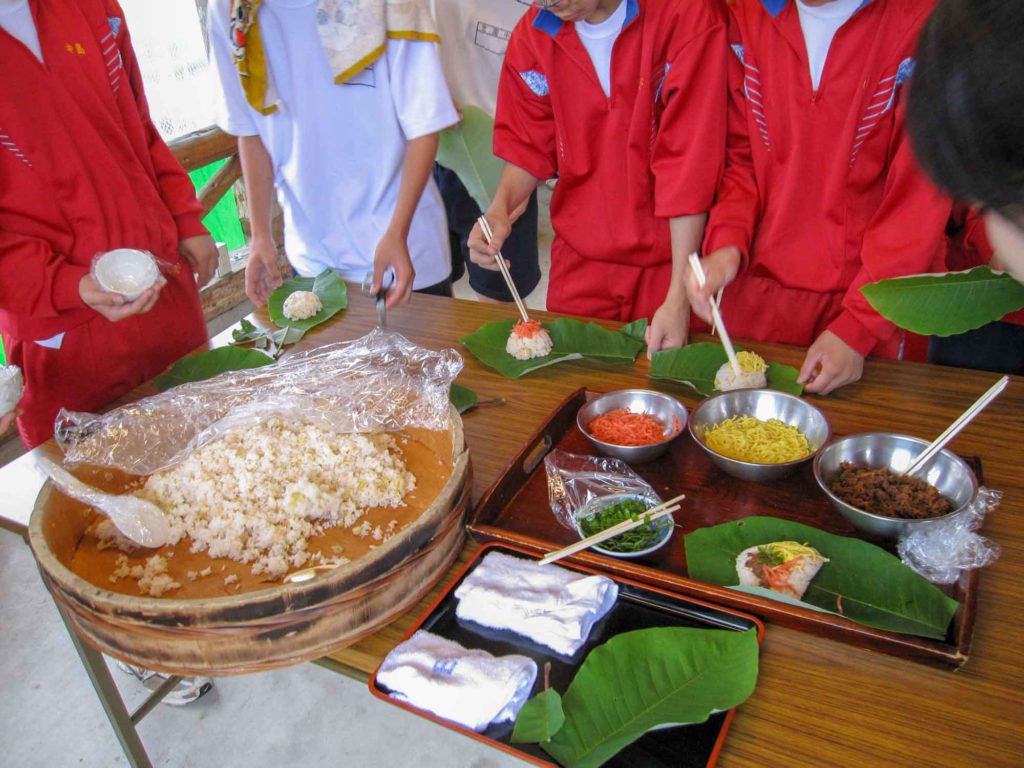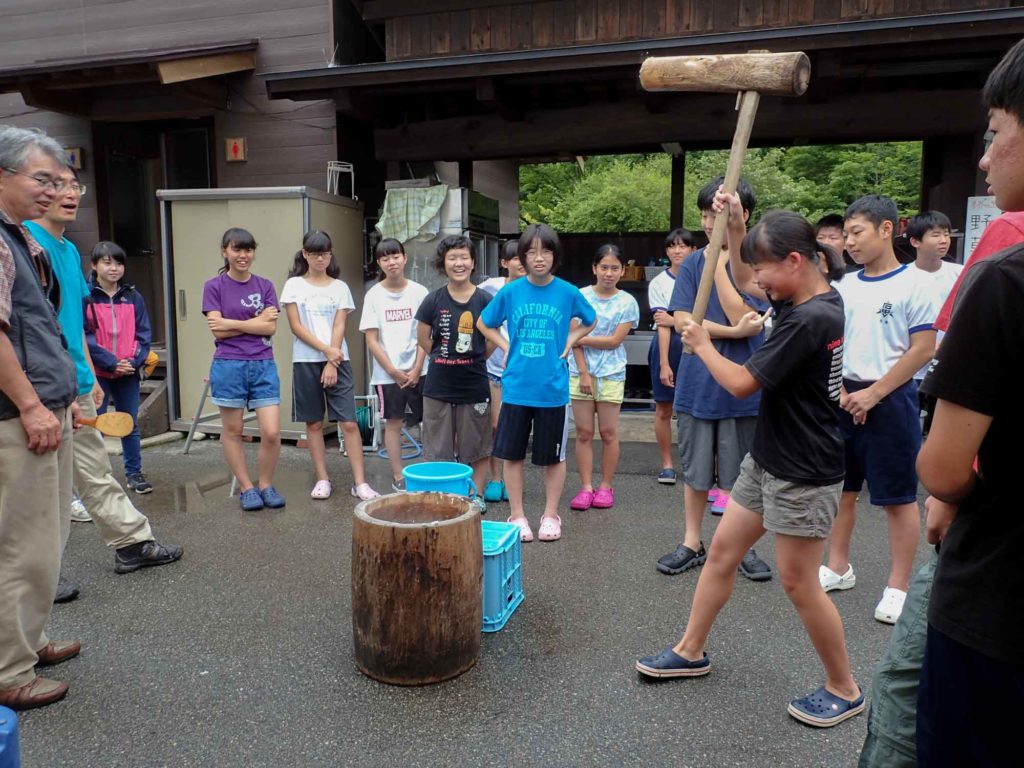 Rice Cake Pounding
Pounding rice cakes with pestle and mortar is a big fun.
It used to be a popular way in old days, however, it has been disappearing.
Many Japanese children even don't know about that.
Put the steamed glutinous (sticky) rice in the mortar to pound it with the pestle rhythmically. It's not easy as you see, may be more struggling than you suppose.
The taste and the texture of the just pounded rice cakes are unforgettable.
"Kinako"(sweet soy bean powder), "Anko"(sweet red bean paste), and "Aburae"(sweet perilla seed paste ) add extra flavor and enjoyment.
"Gohei-mochi" Making
"Gohei-mochi" is a local delicious snack, which is popular around the mountainous areas in Central Japan.
"Mochi" is pounded rice cake made from sticky rice.
On the other hand, "Gohei-mochi" is made from normal white rice.
The rice is pounded, stuck on a skewer, and aromatically grilled over a flame.
They are coated with rich sauce, which is unique to each region and home.
Try and enjoy the Home made taste!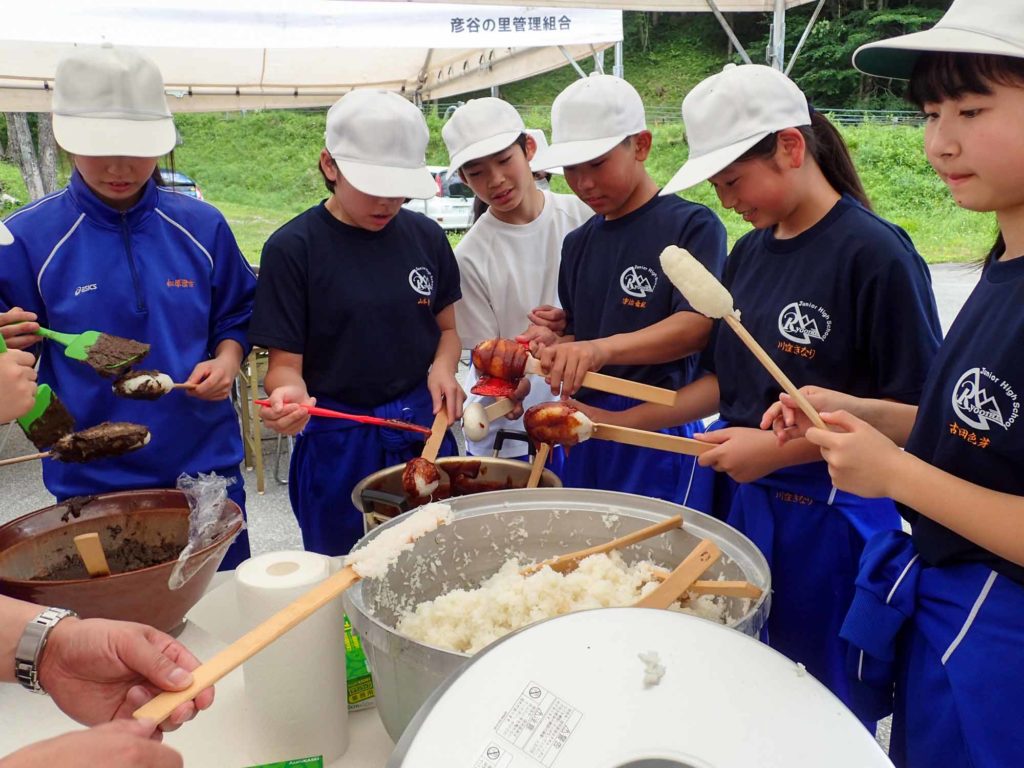 "Soba"(buckwheat noodle) Making
One of the most popular activities in the food culture experience is "Soba" making.
4 people share a large mixing bowl for making dough.
Special skills are required for each process.
All steps, including mixing water, kneading, flattening, cutting, and boiling are amusing.
Everyone works seriously, as they are making their own one.
They end up repeatedly saying "Oishii" (delicious).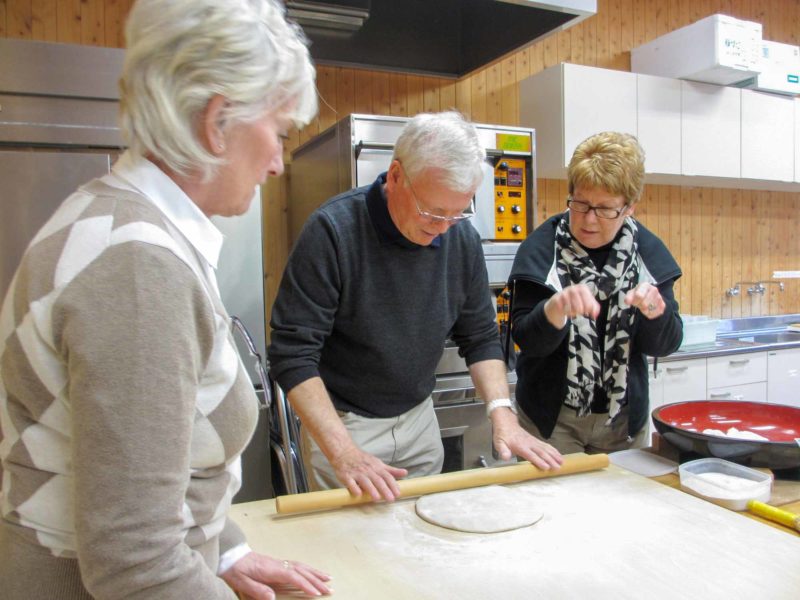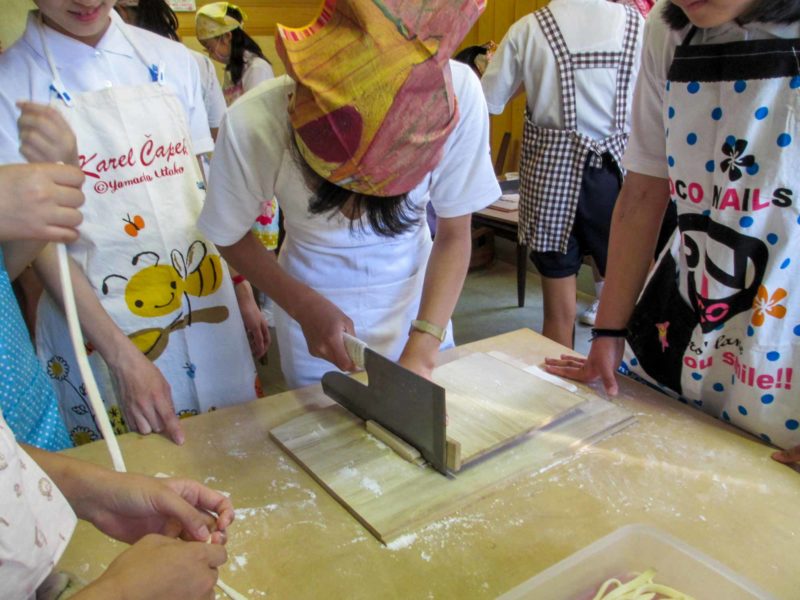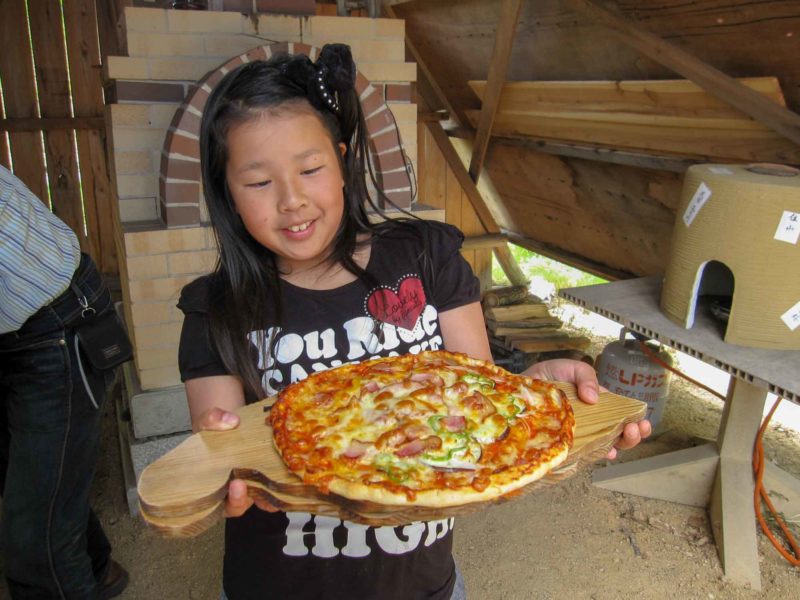 Bread, Pizza, "Senbei"(Rice cracker), "Midarashi"(Grilled rice cake on skewers)
Enjoy baking & tasting bread and pizza in ovens.
Start from dough making and add toppings by yourself.
Grilling & tasting "Senbei" and "Midarashi" are another fun.
(Available only at limited Inn )
Apple Pie Making
Make Apple pies using local "Hida" apples. Hida is well known as an apple producer.
Placing stewed apples or apple jam on the dough is an easy process.
It just makes you hard to wait for the baked apple pie.
Everyone can't stop smiling when tasting.   (Location limited)